RATEL HEART aims to create products not yet invented in the world.
At RATEL HEART, we generally invest in consumer goods. Through leveraging our experience and insights built from developing new stationery products, we will assist companies in developing innovative products.
I will personally be involved in the development process and hands-on support until the product launches. We can also assist in expanding sales across Japan and internationally through our group company, Orient Enterprise Co., Ltd. Our relationship with partner companies does not end once they become listed. Instead, we support their sustainable development based on a long-term perspective.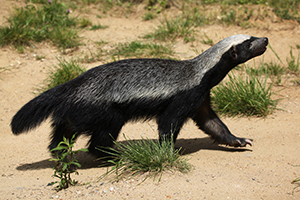 Ratels are skunk-like animals in the weasel Family widely distributed in the Middle East and Africa. They are brave, and are recorded in the Guinness Book of World Records as "the world's most fearless creature." Ratels attack poisonous cobras and even lions alone. RATEL HEART will follow their bravery and continue pushing forward with product developments